Magnetic Dirve Sealless Pump-MD Series
Magnetic Dirve Sealless Pump-MD Series
Magnetic Dirve Sealless Pump-MD Series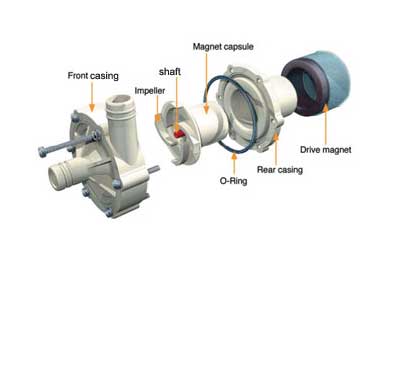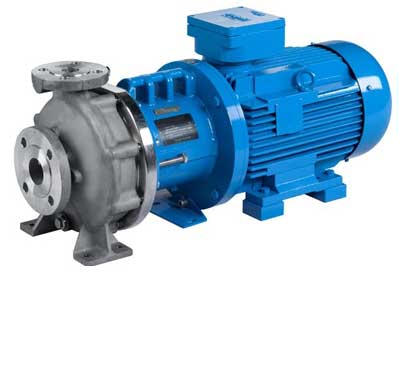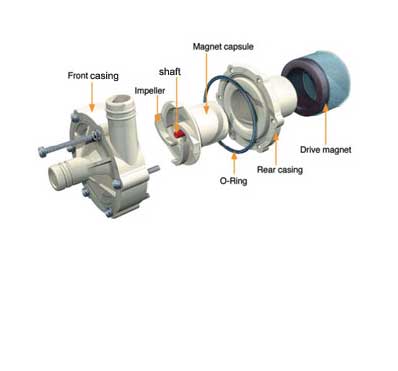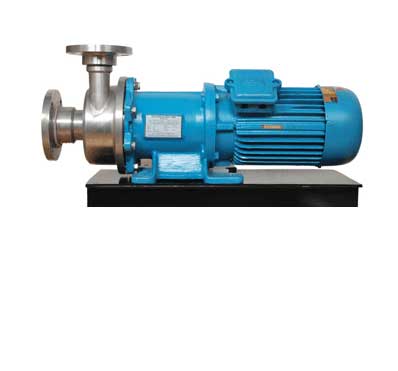 INDUSTRIES SERVED :
We have state-of-the-art infrastructure, which serves as the backbone of our firm and allows us to fabricate best quality products. This unit is well equipped with sophisticated and technically advanced machinery that help us in smooth functioning and timely delivery. Some of the key machines installed in our unit are Auto Winding Machines, Motor Assembly Machine, CNC Operating Machine and Plant. Furthermore, these machines deliver high performance and ensure low maintenance. All the technical facilities are operated under the guidance of skilled and qualified professionals. Owing to all these attributes, we have achieved a noticeable position in the industry.
Furthermore, to maintain a conducive working environment, we have segregated our infrastructure into various departments that are as follows:
Chemical Plant / Chemical Circulation
Various Metal Recovery Systems
Water Treatment Plant
Colour Photo Processing
Textile Processing & Dye Baths
Galvanising/Anodising Plating Plats
Etching/Spark Erosion Machines
Food Processing: Dairy, Soft Drink, Beverages
Metal Finishing
Chilling Plant
T.V. Tube Processing
X-Ray Film
Electroplating Plant
Pharmaceutical Industries
PCB Plants
AERON SEALLESS PUMPS ADVANTAGES
Seal less Design- Total product Containment-ideal for hydrocarbons, petrochemicals, toxic, hot, cold, valuable products etc.
Interchangeable wet end, designed for max head/flow coverage across all product range
Choice of various metallic material of construction Choice of various metallic material of construction
One joint casing/coupling housing design
Casing gasket fully confined to eliminate `Blowout' risk
Various Suction and Discharge Flange connection options
Maximum interchangeability exists between spare parts
Cartridge assemblies allowing fast replacement of the rotating equipment
The Overall benefit package this range brings to the user are:
Ease of Application
Low Capital Cost
Design ensures safe, leak free operation
Low running costs
Minimal Spare holding
Minimal downtime / fast maintenance
Maximizes on-line process time


Internal Flow
The pump is taken from the discharge side of the impeller and fed back through the inner magnet; the isolation shell and the prod act wetted bearings to both cool and lubricate the drive assembly.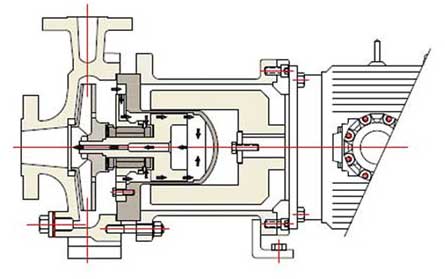 The recirculation flow for any Magnetic Drive pump has three basic functions
Removal of the heat generated from magnetic losses;
Lubrication of the internal radial & thrust bearings;
Thrust balancing of the free floating matting assembly
To successfully meet these requirements, the circulated pump age most remain in the liquid phase at all points within the magnetic coupling area.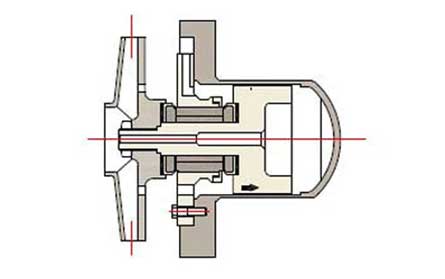 Cartridge Replacements
The low cost alternative to a standby pump
Onsite installation is straight forward using your own staff
Your used cartridge can be refurbished & returned
Cartridge replacements keep your spares inventory low
Cost effective standby for multi pump installations
Replacement cartridge fully complies with original pump specification, ensuring maximum integrity
There has never been a more cost effective way to keep plant inventory at a manageable level than with a AERON replacement cartridge. As a spare part it is both easy to install and more importantly completely complies with the original technical specifications of your pump. The complete rotating unit is replaced thus assuring the total operational integrity of the pump. Most cartridges can be replaced in less than one hour, keeping downtime and lost production to a minimum.
Features
No Seal, No leakage
Continuous flow
Silent in operation
24 hour running
Total eliminating outside contamination. Hence widely used biotech industries.
Sr. No.

Pump Model

Material Of Construction

Motor Power (Hp)

Motor rpm

Phase

End Connection

Max Flow

Max Head

PP MOC

1

MDP-15

GFRPP

3/16

2800

1Ø

14x14mm Nozzle Type

15 LPM

2.5 Meter

2

MDP-30

GFRPP

1/4

2800

1Ø

18x18mm Nozzle Type

30 LPM

3.4 Meter

3

MDP-50

GFRPP

5/16

2800

1Ø

20x20mm Nozzle Type

50 LPM

4.5 Meter

4

MDP-85

GFRPP

3/8

2800

1Ø

1"X1"Nozzle Type

85 LPM

9.5 Meter

5

MDP-85

GFRPP

3/8

2800

3Ø

1"X1"Nozzle Type

85 LPM

9.5 Meter

6

MDP-115

GFRPP

1/2

2800

1Ø

1"X1"Nozzle Type

100 LPM

11.5 Meter

7

MDP-115

GFRPP

1/2

2800

3Ø

1"X1"Nozzle Type

100 LPM

11.5 Meter

8

MDP-150

GFRPP

1

2800

3Ø

1 1/2" Female X 1" Male

150 LPM

14.5 Meter

8

MDP-300

GFRPP

1.5

2800

3Ø

1.5" Bsp Female X 1.25" Bsp Male

280 LPM

20 Meter

9

MDP-520

GFRPP

3

2800

3Ø

2" Npt Male X 1.5" Npt Male

520 LPM

26 Meter

PVDF MOC

10

MDPV-115

PVDF

1/2

2800

1Ø

1"X1"Nozzle Type

100 LPM

11.5 Meter

11

MDPV-115

PVDF

1/2

2800

3Ø

1"X1"Nozzle Type

100 LPM

11.5 Meter

12

MDPV-300

PVDF

1.5

2800

3Ø

1.5" Bsp Female X 1.25" Bsp Male

280 LPM

20 Meter

SS MOC

13

MDS-50

SS 316

5/16

2800

1Ø

3/4" Bsp Female X 1/2" Bsp Male

54 LPM

4.5 Meter

14

MDS-115

SS 316

0.5

2800

3Ø

1" X 1" Nozzle Type

100 LPM

11.5 Meter

15

MDS-150

SS 316

1

2800

3Ø

1.5" Bsp Female X 1" Bsp Male

150 LPM

14.5 Meter

16

MDS-300A

SS 316

1.5

2800

3Ø

2" Bsp Female X 11/4" Bsp Male

280 LPM

20 Meter

17

MDS-300B

SS 316

2

2800

3Ø

2" Bsp Female X 11/4" Bsp Male

320 LPM

22 Meter

18

MDS-555

SS 316

5

2800

3Ø

2 NPT Male x 1 1/2" NPT Male

660 LPM

30 Meter
These parameters depend on size of pump
| | |
| --- | --- |
| Temperature | Max 150oc |
| Solid Size | Max 0.2 mm |
| Sp Gravity | Max 1.5 |
| Solid % | Max 10% |
| Viscosity | 2000 CP |
| Suction required | Flooded cannot run dry. |
Non self-priming
Chemical
Formula
Stainless Steel
Polypropylene
PVDF
1-Chloronaphthalene
C10H7Cl
B
X
1-Nitropropane
CH3(CH2)2NO2
A
Acetaldehyde (Ethanal)
CH3CHO
A
C
A 150°F
Acetamide (Acetic Acid Amide)
CH3CONH2
X
A
A 140°F
Acetate Solvents
CH3COOR
A
X
A
Acetic Acid _ 20%
A
B
X
Acetic Acid _ 30%
A
Acetic Acid _ 50%
CH3COOH
A
Acetic Acid _ Glacial
CH3COOH
A
C
A 120°F
Acetic Anhydride (Acetic Oxide)
(CH3CO)2O
A
X
B 70°F
Acetone (Dimethylketone)
CH3COCH3
A
X
X
Acetone Cyanohydrin
(CH3)2C(OH)CN
B
Acetonitrile (Methyl Cyanide)
CH3CN
A
A
Acetophenone (Phenyl Methyl Ketone)
C6H5COCH3
A
A 70°F
A
Acetyl Acetone (2,4-Pentanedione)
CH3COCH2COCH3
B
Acetyl Chloride
CH3COCl
B
X
A
Acetyl Salicylic Acid (Aspirin)
(CH3OCO) C6H4COOH
B
Acetylene (Ethyne)
HC=CH
A
X
A
Acrolein (Acrylaldehyde)
H2C=CHCHO
B
Acrylonitrile (Vinyl Cyanide)
CH2=CHCN
A
B
A
Adipic Acid (1,4-Butanedicarboxylic Acid)
HOOC(CH2)4 (COOH )
B
A
A
Alcohols
R-OH
A
A
Allyl Alcohol (2-Propen-1-ol)
CH2CHCH2OH
A
A
Allyl Chloride (3-Chloropropene)
CH2=CHCH2CI
B
A 70°F
A
Alum (Aluminum Potassium Sulfate Dodecahydrate)
KAI(SO4)2 &1&2H2O
B
A
A
Aluminum Acetate (Burow's Solution)
C
A
Aluminum Ammonium Sulfate (Alum)
AINH4(SO4)2
A
A
Aluminum Bromide
AlBr3
A
Aluminum Chloride
AlCl3
B
A
A
Aluminum Fluoride
AlF3
C
A
A
Aluminum Hydroxide (Alumina Trihydrate)
AI(OH)3
B
A
A
Aluminum Nitrate
Al(NO3)3 &9H2O
A 10%
A
A
Aluminum Potassium Sulfate (Potash Alum)
KAl(SO4)2
A
A
A
Aluminum Sulfate (Cake Alum)
Al2(SO4)3
A 50% 167°F
A
A
Amines
R-NH2
A
B
Ammonia Anhydrous, Liquid
NH3
A
A
A
Ammonia Liquors
A
Ammonium Bifluoride _ 10%
NH4HF2
B
A
A
Ammonium Carbonate
(NH4)2CO3
B 70% 212°F
A
A
Ammonium Casenite
A
Ammonium Chloride (Sal Ammoniac)
NH4Cl
B
A
A
Ammonium Fluoride
NH4F
B
B
A
Ammonium Hydroxide (Aqua Ammonia)
NH4OH
A 50%
A
A
Ammonium Metaphosphate
B
A
A
Ammonium Nitrate
NH4NO3
A
A
A
Ammonium Nitrite
NH4NO2
A 70°F
A
Ammonium Oxalate
(NH4OOC)2
A
Ammonium Persulfate
(NH4)2S2O8
A
A
A
Ammonium Phosphate, Di-Basic
(NH4)2HPO4
A
A
A
Ammonium Phosphate, Monobasic
(NH4)H2PO4
B
A
A
Ammonium Phosphate, Tri-Basic
(NH4)3PO4&3H2O
B
A
A
Ammonium Sulfate
(NH4)2SO4
A 80% 212°F
A
A
Ammonium Sulfide
(NH4)2S
B
Ammonium Sulfite
(NH4)2SO3H2O
B
A
Ammonium Thiocyanate
NH4SCN
A 50%
Ammonium Thiosulfate
(NH4)2S2O3
A 10%
Amyl (1-Pentanol)
C4H9CH2OH
A
B
A
Amyl Acetate (Banana Oil)
CH3CO2C5H11
A
X
A 120°F
Amyl Alcohol (Pentyl Alcohol)
CH3(CH2)4OH
A
A
A
Amyl Chloride (Chloropentane)
CH3(CH2)4CI
A
X
A
Amyl Chloronaphthalene
A
Amyl Phenol
C6H4(OH)C5H11
A
Aniline (Aniline Oil) (Amino Benzene)
C6H5NH2
A
A
A
Aniline Dyes
B
Aniline Hydrochloride
C6H5NH2HCI
X
X
A
Animal Fats & Oils
A
A
Animal Gelatin
A
Anisole (Methylphenyl Ether)
C6H5OCH3
B
Anthraquinone
C14H8O2
B
Anti-Freeze (Alcohol Base)
A
Anti-Freeze (Glycol Base, Prestone etc)
A
Antimony Pentachloride
SbCI5
A
Antimony Trichloride
SbCI3
A
A
A
Aqua Regia (Nitric & Hydrochloric Acid)
X
C
A
Aroclor
PCB mixtures
A
X
Aromatic Hydrocarbons
C6H5R
A
Aromatic Solvents (Benzene etc.)
A
Arsenic Acid
AsH3O4
B
A
A
Ascorbic Acid
C6H8O6
A
Askarel (Pyranol)
PCB mixtures
A
Asphalt
Hydrocarbons
A
A
A
Asphalt Topping
Hydrocarbons
A
ASTM _ Ref #1 Oil (High Aniline)
Hydrocarbons
A
ASTM _ Ref #2 Oil (Medium Aniline)
Hydrocarbons
A
ASTM _ Ref #3 Oil (Low Aniline)
Hydrocarbons
A
ASTM _ Ref #4 Oil (High Aniline)
Hydrocarbons
A
ASTM _ Ref Motor Fuel A (Aliphatic)
Hydrocarbons
A
ASTM _ Ref Motor Fuel B (30% Aromatic)
Hydrocarbons
A
ASTM _ Ref Motor Fuel C (50% Aromatic)
Hydrocarbons
A
Aviation Gasoline
A
Barbeque Sauce
Water, oils, spices
A
Barium Carbonate
BaCO3
B
A
A
Barium Chloride Dihydrate
BaCl2 &2H2O
B 212°F
A
A
Barium Cyanide
Ba(CN)2
A
X
Barium Hydroxide (Barium Hydrate)
Ba(OH)2
A 50% 122°F
A
A
Barium Nitrate
Ba(NO3)2
A
A
A
Barium Sulfate (Blanc Fixe)
BaSO4
B
A
A
Barium Sulfide
BaS
B
A
A
Beef Extract
A
Beer
Water, carbonate
A
A 75°F
A 175°F
Beet Sugar Liquors (Sucrose)
A
A
A
Benzaldehyde
C6H5CHO
A
X
A
Benzene (Benzol)
C6H6
A 167°F
X
B
Benzene Sulfonic Acid
C6H5SO3H
A
X
B 100°F
Benzoic Acid (Benzene Carboxylic Acid)
C6H5COOH
B
X
A
Benzol (Benzene)
C6H6
A 167°F
X
B
Benzoyl Chloride
C6H5COCl
B
A
Benzyl (Phenylcarbinol)
C6H5CH2OH
A
A
A
Benzyl Acetate
CH3COZ CH2C6H5
A
Benzyl Alcohol
C6H5CH2OH
A
A
A
Benzyl Benzoate
C6H5CO2CH2C6H5
B
Benzyl Chloride (Chlorotoluene)
C6H5CH2Cl
B
X
A
Benzyl Dichloride (Benzal Chloride)
C6H5CHCl2
A
Bismuth Subcarbonate (Bismuth Carbonate)
(BiO)2CO3
B 10%
Black Sulfate Liquor
A
Bleach Solutions
Water, chlorine, oxygen
B
X
Borax (Sodium Borate)
B4Na2O7
A
A
A
Bordeaux Mixture
Copper sulfate salts
A
Boric Acid (Boracic Acid)
H3BO3
A 30%
A
A
Brake Fluid (Non-Petroleum Base)
Silicones or glycols
A
X
Brewery Slop
A
Brine (Sodium Chloride)
Salt water
A
A
A
Bromine _ Anhydrous
Br2
X
X
A 150°F
Bromine Trifluoride
BrF3
B
X
Bromine Water
X
X
A
Bromobenzene
C6H5Br
A
X
Bromochloromethane
BrCH2Cl
B
Bromotoluene
C6H4BrCH3
A
Bronzing Liquid
A
Bunker Oil (Fuel) #5, #6 & C
Hydrocarbons
A
Butadiene
C4H6
A
X
A
Butane (LPG) (Butyl Hydride)
C4H10
A
X
A
Butter
Fats
A
Buttermilk
Fats, water
A
A
A
Butyl (Butanol)
C3H7CH2OH
A
B
A
Butyl Acetate
CH3CO2(CH2)3CH3
A
X
A 100°F
Butyl Acetyl Ricinoleate
C24H44O5
A
Butyl Acrylate
CH2CHCO2C4H9
A
C
Butyl Alcohol (Butanol)
CH3(CH2)3OH
A
A
A
Butyl Amine (Aminobutane)
CH3(CH2)2CH2NH2
A
X
B 70°F
Butyl Benzoate
C6H5COO(CH2)3CH3
A
Butyl Bromide
CH3(CH2)2CH2Br
A
A
Butyl Butyrate
CH3(CH2)2 CH2CO2C4H9
A
Butyl Cellosolve
HOCH2CH2OC4H9
B
Butyl Chloride (Chlorobutane)
CH3(CH2)3CL
B
X
A
Butyl Ether (Dibutyl Ether)
(CH3(CH2)3)2O
A
X
A 100°F
Butyl Stearate
CH3(CH2)16 CO2(CH2)3CH3
B
A
Butylene (Butene)
C4H8
A
X
A
Butyraldehyde
CH3(CH2)2CHO
A
Butyric Acid
CH3(CH2)2CO2H
B
A
A
Butyric Anhydride
(CH3CH2CH2CO)2O
A
Calcium Acetate Hydrate
Ca(CH3COO)2 H2O
B
Calcium Bisulfite
Ca(HSO3)2
A 90%
A
A
Calcium Carbonate (Chalk)
CaCO3
B
A
A
Calcium Chlorate
Ca(ClO3)2
B 30%
A
A
Calcium Chloride (Brine)
CaCl2 &6H2O
A
A
A
Calcium Hydroxide (Slaked Lime)
Ca(OH)2
B 50%
A
A
Calcium Hypochlorite 20% (Calcium Oxichloride)
Ca(CIO)2
B
A
A
Calcium Nitrate
Ca(NO3)2
B 40% 212°F
A
A
Calcium Oxide (Unslaked Lime)
CaO
A
Calcium Silicate
Ca2SiO4
B
Calcium Sulfate (Gypsum)
CaSO4
A 10%
A
A
Calcium Sulfide
CaS
B
A 120°F
A
Calcium Sulfite
CaSO3&2H2O
A 10%
Calgon
(NaPO3)6
A
A
Cane Juice
Sucrose, water
A
X
Cane Sugar Liquors
Sucrose, water
A
A
A
Capryl Alcohol (Octanol)
CH3(CH2)6CH2OH
A
Caprylic Acid (Octanoic Acid)
CH3(CH2)6 COOH
A
A
Carbitol
CH3CH2OCH2CH2OCH2CH2OH
A
Carbolic Acid (see Phenol)
C6H5OH
B
C
A 150°F
Carbon Dioxide (Carbonic Acid Gas)
CO2
A
A
A
Carbon Disulfide (Carbon Bisulfide)
CS2
A 90%
X
A
Carbon Monoxide
CO
A
A
A
Carbon Tetrachloride (Tetrachloromethane)
CCL4
B
X
A
Carbonated Beverages
CO2/H2O
A
A
A
Carbonic Acid (liquid)
H2CO3
B
A
A
Casein
a phosphoprotein
B
Castor Oil
A mixture of fatty acids
A
Catsup (Ketchup)
A
A
Cellosolve (Glycol Ethers)
HOCH2CH2OR
A
A 100°F
A
Cellulose Acetate
C8H12O5
A
Cellulube Hydraulic Fluids (Phosphate Esters)
A
Chlorinated Lime _ 35% Bleach
CA(CIO)2
A
Chlorinated Water
B
B
A
Chlorine Dioxide
CIO2
X
X
A
Chlorine Trifluoride
CIF3
A
X
Chlorine, Anhydrous Liquid
CI2
X
X
A
Chlorine, Dry
CL2
X
A
Chlorine, Wet
CI2/H2O
A
X
A
Chloroacetic Acid (Monochloroacetic Acid)
CICH2COOH
X
A
A
Chloroacetone (Monochloroacetone)
CICH2cOCH3
B
X
Chlorobenzene (Monochlorobenzene)
C6H5CI
B
X
A 150°F
Chlorobromomethane
CICH2Br
B
X
Chlorobutadiene (Chloroprene)
C4H5CL
B
X
Chloroform
CHCI3
A
X
A
Chlorosulfonic Acid
HSO3CL
B
X
X
Chlorothene (Chlorinated Solvents)
CH3CCL3
A
Chlorotrifluoroethylene
C2H2CIF3
B
Chocolate syrup
Corn syrup, water, sugar
A
A
Chromic Acid _ 25%-50%
H2CrO4
X
X
A 120°F
Chromic Acid _ Over 50%
H2CrO4
X
X
A 120°F
Chromic Acid _ To 25%
H2CrO4
X
X
A 120°F
Cider (Apple Juice)
Sucrose, water
A
Cinnamon Oil
Cinnamic acid esters
A
Citric Acid
C6H8O7 H2O
A 30%
B
A 250°F
Citric Oils
Citric acid esters
A
A
Citrus Pectin Liquor
A
Clorox
A
B
Clove Oil (Eugenol)
C10H12O2
A
Cobalt Chloride
CoCI2&6H2O
A
Coconut Oil (Coconut Butter)
Fatty acid mixture
A
Cod Liver Oil (Fish Oil)
Glycerides, acids, esters
A
Coffee
Fatty oils, acids, ellulose, water
A
A
Coke Oven Gas
H2(&5&3%), CH4 (&2&6%), N2 (&1&1%), CO (&7%) hydrocarbons(&3%)
A
Copper Acetate
Cu(c2H3O2)2 CuO &6H2O
B 10%
A
Copper Chloride
CuCl2&2H2O
X
A
A
Copper Cyanide
CuCN
A 10%
A
A
Copper Nitrate Hexahydrate
Cu(NO3)2&6H2O
A
A
A
Copper Sulfate (Blue Copperas)
CuSO4&5H2O
A 10%
A
A
Corn Oil (Maize oil)
Glycerides of fatty acids
B
A
A
Cotton Seed Oil
A
A
A
Cream
A
A
Creosote, Coal-Tar (Tar Oil)
Hydrocarbon mixture
B
X
Creosote, Wood-Tar
Phenol mixture
B
X
Cresylic Acid (Cresol)
C8H10O2
A
X
A 150°F
Crotonaldehyde
CH3CHCHCHO
A
Cumeme (Isopropylbenzene)
C6H5CH(CH3)2
B
Cutting Oil (Sulfur Base)
A
Cutting Oil (Water Soluble)
A
Cyclohexane
C6H12
B
X
A
Cyclohexanol
C6H11OH
A
B
A 150°F
Cyclohexanone
C6H10O
B
X
A
Cyclopentane
C5H10
B
Decane
CH3(CH2)8CH3
A 70°F
A
Denatured Alcohol
Ethanol and denaturant
A
A
A
Detergent Solutions
A
A
Developing Fluids & Solutions
A
Dextrose
C6H12O6
A
A
A
Diacetone (Tyranton)
(CH3)2C(OH) CH2COCH3
A
X
A
Diacetone Alcohol (Diacetone)
(CH3)2COHCH2 COCH3
A
X
C
Dibenzyl Ether
(C6H5CH2)2O
B
C
Dibutyl Amine
(C4H9)2NH
A
X
B 70°F
Dibutyl Phthalate (DBP)
C6H4(CO2C4H9)2
A
X
X
Dibutyl Sebecate (DBS)
C18H34O4
A
C
Dichlorobutane
C4H8CI2
B
Diesel Oil (Fuel ASTM #2)
Hydrocarbons
A
B
A
Diester Synthetic Oils
A
Diethanol Amine
(HOCH2CH2)2NH
A
A
Diethyl Amine
(CH3CH2)2NH
A
A
A
Diethyl Ether (Ether)
(CH3CH2)2O
A
X
A
Diethyl Phthalate (DEP)
C6H4(CO2C2H5)2
A
Diethyl Sebecate
C14H26O4
A
A 120°F
A 120°F
Diethylene Ether (Dioxane)
C4H8O2
A
Diethylene Glycol (DEG)
HOCH2CH2OCH2CH2OH
A
A
Diethylene Triamine
(NH2C2H4)2NH
A
Diisobutyl Ketone
C4H9COC4H9
A
Diisobutylene
[HC=C(CH3)2]2
A
A
Diisooctyl Adipate (DIOA)
C22H42O4
A
Diisopropyl Ketone
[(CH3)2CH]2CO
A
Dimethyl Ether
CH3OCH3
B
Dimethyl Phthalate
C6H4(CO2CH3)2
A 70°F
Dimethyl Sulfide
(CH3)2S
A
Dinitrotoluene (DNT)
CH3C6H3(NO2)2
A
Dioctyl Phthalate (DOP)
C24H38O4
A
Dioctyl Sebecate
C26H50O4
A
Dipentene (Limonene)
C10H16
A
Diphenyl Oxides (Phenyl Ether)
C6H5OC6H5
A
A
Dipropylene Glycol
(C3H6OH)2O
A
A
Dispersing Oil #10
A
Dodecyl Benzene (Alkane)
C6H5(CH2)11CH3
A
Dowtherm (Biphenyl & Phenyl Ether)
(C6H5)2 and (C6H5)2O
A
Drycleaning Fluids
Chlorinated hydrocarbons
A
X
Dyes
A
Epichlorohydrin
C3H5CIO
A
A
X
Epsom Salts (Magnesium Sulfate)
MgSO4 &7H2O
A
A
A
Ethane
C2H6
A
C
Ethanolamine (Aminoethanol)
H2NCH2 CH2OH
A
X
C
Ethyl (Ethanol)
CH3CH2OH
A
A 100°F
A
Ethyl Acetate
CH3COOC H2CH3
A
C
A
Ethyl Acetoacetate (Acetoacetic Ester)
CH3COCH2 COOCH2CH3
A
A 70°F
Ethyl Acrylate
CH2CHCO2CH2CH3
A
B
B 70°F
Ethyl Alcohol (Ethanol)
CH3CH2OH
A
A 100°F
A
Ethyl Amine (Monoethylamine)
CH3CH2NH2
A
Ethyl Benzene
CH3CH2C6H5
B
X
A
Ethyl Benzoate
C6H5CO2CH2CH3
A
B
Ethyl Bromide (Bromoethane)
CH3CH2Br
A
Ethyl Butyrate
CH3CH2CH2 CO2C2H5
A
B
Ethyl Cellulose (Ethocel)
B
C
Ethyl Chloride (Chloroethane)
C2H5CI
A
X
A
Ethyl Formate
HCOOCH2 CH3
B
Ethyl Mercaptan (Ethanethiol)
CH3CH2SH
B
Ethyl Propionate
CH3CH2 COOCH2CH3
A
Ethyl Silicate
Si(OCH2CH3)4
A
Ethylene (Ethene)
C2H4
A
Ethylene Chlorohydrin
CICH2CH2OH
A
X
A 70°F
Ethylene Diamine
(CH2)2(NH2)2
A
A
B
Ethylene Dibromide (Ethylene Bromide)
Br(CH2)2Br
B
X
A
Ethylene Dichloride (Dutch Oil)
CI(CH2)2CI
B
X
A
Ethylene Glycol (Ethylene Alcohol, Glycol)
(CH2OH)2
A
A 120°F
A
Ethylene Glycol Monobutyl Ether (Butyl Cellosolve)
C4H9OCH2CH2OH
A
Ethylene Glycol Monoethyl, Ether Acetate (Cellosol
C2H5O(CH2)2 O2CCH3
A
Ethylene Glycol Monomethyl, Ether (Methyl Cellosol
CH3O(CH2)2OH
A
Ethylene Oxide
(CH2)2O
A
C
A
Ethylene Trichloride (Trichloroethene)
CICHCCI2
A
X
Ethylhexyl Alcohol (Ethylhexanol)
C8H17OH
A
Ethylidene Chloride
CH3CHCI2
A
Fatty Acids
CnH2n+1COOH
A
B
A
Ferric Chloride
FeCI3
X
A
A
Ferric Hydroxide
FeHO2
A
Ferric Nitrate
Fe(NO3)3
B
A
A
Ferric Sulfate
Fe2(SO4)3
B
A
A
Ferrous Chloride
FeCI2
B 30%
A
A
Ferrous Sulfate
FeSO4
B
A
A
Fluoboric Acid
HBF4
A 30%
A
A
Fluorine (Liquid)
F2
A
X
A 70°F
Fluorolube (Fluorocarbon Oils)
FxCyHz
A
X
Fluosilicic Acid (Sand Acid)
H2SiF6
A 212°F
A
A
Formaldehyde (Formalin)
HCHO
A 90%
A
A 120°F
Formamide
HCONH2
B
Formic Acid
HCOOH
C
A 70°F
A
Freon 11 (Trichlorofluoromethane)
CCI3F
A
B
A
Freon 113 (Trichlorotrifluoroethane) (TF)
CI3CCF3
A
A
Freon 114 (Dichlorotetrafluoroethane)
C2CI2F4
A
A
Freon 114B2 (Dibromotetrafluoroethane)
C2Br2F4
A
Freon 12 (Dichlorodifluoromethane)
CI2CF2
A
A
Freon 13 (Chlorotrifluoromethane)
CICF3
A
Freon 21 (Dichlorofluoromethane)
FCHCI2
A
HCCIF2
A
A
Fruit Juices
Water, sucrose
A
A
A
Fuel Oils (ASTM #1 thru #9)
Hydrocarbons
A
C
A
Furfural (Ant Oil)
C5H4O2
A 20%
X
B 120°F
Furfuryl Alcohol
C5H6O2
A
B 100°F
Gallic Acid
C6H(OH)3 COOH
B
A 70°F
A 70°F
Gasoline (Petrol)
Hydrocarbons
A
C
A
Gasoline (Unleaded)
C4 TO C12 hydrocarbons
A
C
A
Gelatin
Water soluble proteins
A
A
A
Ginger Oil
C17H26O4
A
Gluconic Acid
C6H12O7
A 50%
Glucose (Corn Syrup)
C6H12O6
A
A
A
Glue
B
A
Glycerol (Glycerine)
C3H8O3
A
A
A
Glycolic Acid
HOCH2COOH
A
A
Glycols
B
A
A
Grape Juice
Water, sucrose
A
A
A
Grapefruit Oil
A
Grease
Hydrocarbons
A
Green Sulfate Liquor
A
A
Heptanal
CH3(CH2)5CHO
A
A
Heptane
C7H16
A
C 140°F
A
Hexanal
CH3(CH2)4CHO
A
Hexyl (1-Hexanol)
C5H11CH2OH
A
A 70°F
A
Hexyl Alcohol (1-Hexanol)
C6H13OH
A
A
Hexylene Glycol (Brake fluid)
C6H12OH
A
Honey
A
A
Hydraulic Oil (Petroleum base)
Hydrocarbons
A
X
Hydrazine (Diamine)
H2NNH2
A
X
X
Hydrobromic Acid
HBr
A
B
A
Hydrochloric Acid 10% (Muratic)
HCI
X
A
A
Hydrochloric Acid 20% (Muratic)
HCI
X
A
A
Hydrochloric Acid 30% (Conc.)
HCI
X
B
A
Hydrocyanic Acid (Formonitrile)
HCN
A
A
A
Hydrofluoric Acid (Conc.) Cold
HF
X
X
A
Hydrogen Fluoride _ Anhydrous
HF
X
A
A
Hydrogen Peroxide _ 10%
H2O2
A
A
A
Hydrogen Peroxide _ 3%
H2O2
A
A
Hydrogen Peroxide _ 30%
H2O2
B
A
A
Hydrogen Peroxide _ 90%
H2O2
A
Hydrogen Sulfide (Wet)
H2S
A 167°F
A
A
Hydroquinone
C6H4(OH)2
A 10%
A
Hydroxyacetic Acid _ 10%
HOCH2COOH
B
Hypochlorous Acid
HCIO
X
A
A
Ink
A
Iodine
I2
X
A
A 150°F
Iodoform
CHI3
A
A
Isoamyl Acetate
CH3CO2CH2CH2CH(CH3)2
A
Isoamyl Butyrate
C9H18O2
A
Isobutyl (2-Methyl-1-Propanol)
C3H7CH2OH
A
A
Isobutyl Acetate
CH3CO2CH2 CH(CH3)2
A
Isobutyl Alcohol (Isobutanol)
(CH3)2 CHCH2OH
A
A
Isobutyl Chloride
(CH3)2 CHCH2CI
B
Isododecane
(CH3)2 CH(CH2)8CH3
B
Isooctane (Trimethylpentane)
C8H18
A
A
A
Isophorone
C9H14O
A
Isopropyl (2-Propanol)
H3CCH(OH)CH3
A
A
A 150°F
Isopropyl Acetate
CH3COOCH(CH3)2
A
B
Isopropyl Alcohol (Isopropanol)
CH3CH(OH)CH3
A
A
A
Isopropyl Amine
C3H7NH2
A
Isopropyl Chloride
(CH3)2CHCI
A
X
Isopropyl Ether
(CH3)2CHOCH(CH3)2
A
X
A 170°F
Jet Fuels (JP1 to JP6) (ASTM-A, A1 & B)
A
X
A
Kerosine (Kerosene)
Hydrocarbons
A
X
A
Lacquer Solvents
A
C
X
Lacquers
A
Lactic Acid
CH3CHOHCOOH
A 70%
A
A
Lactol (Aliphatic Naptha Solvent)
CH3CHOH CO2C10H7
A
Lard (Lard Oil)
Olein, stearin
B
A
A
Latex
Rubber emulsion
A
A
Lauryl Alcohol (n-Dodecanol)
CH3(CH2)10 CH2OH
A
A
Lead Acetate (Sugar of Lead)
Pb(CH3CO2)2
B
A
Lead Chloride
PbCI2
B
A
A
Lead Nitrate
Pb(NO3)2
B
A
A
Lead Sulfamate
A
Lemon Oil (Cedro Oil)
Hydrocarbons
A
Lignin Liquor
Blend of nautal aromatic oils
A
Ligroin (Ligroine) (Benzine)
Petroleum fraction
A
X
Lime Bleach
B
Lime Slurries
B
Lime Sulfur
CaS+CaSO4
A
A
Linoleic Acid
C18H32O2
A
A
A
Linseed Oil (Flaxseed Oil)
Glycerides
A
A
A
Lithium Bromide
LiBrH2O
A
Lubricating Oils (Petroleum)
Hydrocarbons
A
C
A
Lye (Potassium Hydroxide)
KOH
A
A
A 150°F
Magnesium Carbonate
MgCO3
B
A
A
Magnesium Chloride
MgCI2O
B 40%
A
A
Magnesium Hydroxide (Milk of Magnesia)
Mg(OH)2
A
A
A
Magnesium Nitrate
Mg(NO3)2 &6H2O
A
A
A
Magnesium Oxide
MgO
A
Magnesium Sulfate (Epsom Salts)
MgSO4&7H2O
A 40%
A
A
Maleic Acid
(CHCOOH)2
B
A
A
Maleic Anhydride
C4H2O3
A
Malic Acid (Apple Acid)
C4H6O5
A
Maple Sugar Liquors (Sucrose)
Water, sucrose
A
Mayonnaise
Water, fats, oils
A
A
Mercuric Chloride
HgCI2
X
A
A
Mercuric Cyanide
Hg(CN)2
B
A
A
Mercurous Nitrate
Hg(NO3)2 &2H2O
B 212°F
A
A
Mercury
Hg
A
A
A
Mesityl Oxide
(CH3)2C = CHCOCH3
A
Methane
CH4
A
B
A
Methyl (Methanol)
CH3OH
A
A 120°F
A
Methyl Acetate
CH3CO2CH3
A
C
Methyl Acetoacetate
CH3COCH2 COOCH3
A
Methyl Acrylate
CH2CHCO2CH3
A
A 70°F
Methyl Alcohol (Methanol)
CH3OH
A
A
A
Methyl Amine (Monomethylamine)
CH3NH2
A
X
C
Methyl Amyl Acetate
C8H16O2
A
Methyl Amyl Alcohol
C6H13OH
A
Methyl Bromide (Bromo Methane)
CH3Br
A
X
A
Methyl Butyl Ketone (2-hexanone)
CH3COC4H9
A
X
Methyl Butyrate
CH3(CH2)2 CO2CH3
A
Methyl Cellosolve
CH3OCH2 CH2OH
A
A
Methyl Chloride
CH3CI
A
X
A
Methyl Cyclopentane
C6H12
A
Methyl Ethyl Ketone (Butanone)
CH3COCH2CH3
A
X
X
Methyl Formate
HCOOCH3
A
Methyl Iodide
CH3I
A
Methyl Isobutyl Ketone (Hexone)
CH3COCH2CH (CH3)2
B
C 70%F
A 70°F
Methyl Isopropyl Ketone
CH3COCH(CH3)2
A
C
A 70°F
Methyl Methacrylate
CH2C(CH3)CO2CH3
A
A 70°F
Methylamine
CH3NH2
A
A
Methylene Bromide
CH2Br2
A
A
Methylene Chloride
CH2CI2
A 90%
X
B 100°F
Milk
A
A
A
Mine Water
B
Mineral Oil (Petroleum)
Hydrocarbons
A
B
A
Mixed Acids (Sulfuric & Nitric)
H2SO4, HNO3
B
X
A
Molasses
A
A
A
Monochlorobenzene
C6H5CI
A
X
A 100°F
Monoethanolamine
NH2C2H4OH
A
X
X
Mustard
A
A
N,N-Dimethyl Formamide (DMF)
HCON(CH3)2
A
A 120°F
A 120°F
N,N-Dimethylaniline
C6H5N(CH3)2
X
A
Naphtha (Petroleum Spirits) (Thinner)
Petroleum fractions
A
X
A
Naphtha Coal Tar (Benzol)
Hydrocarbons
A
Naphthalene (Tar Camphor)
C10H8
A
A
A
Naphthoic Acid
C11H8O2
A
n-Butyl Acetate
CH3CO2(CH2)3CH3
A
Neatsfoot Oil
A
Neosol
A
n-Hexane
C6H14
A
C 140°F
A
Nickel Acetate
Ni(CH3CO2)2
A
A
A
Nickel Chloride
NiCI2
B
A
A
Nickel Nitrate
Ni(NO3)2&6H2O
A
A
A
Nickel Sulfate
NiSO4
A 40%
A
A
Nitrana (Ammonia Fertilizer)
A
Nitric Acid (Conc.)
HNO3
A
X
A 120°F
Nitric Acid (Red Fuming)
A
X
C
Nitric Acid _ 10%
HNO3
A
A
A
Nitric Acid _ 25%
HNO3
A 30%
A
A
Nitric Acid _ 35%
HNO3
A 40%
B
A
Nitric Acid _ 50%
HNO3
A
C
A
Nitric Acid _ 70%
HNO3
A
A
Nitrobenzene
C6H5NO2
A
B
A 70°F
Nitroethane
C2H5NO2
A
C
A 70°F
Nitrogen Tetroxide
N2O4
A
X
C
Nitromethane
CH3NO2
A
C
A 120°F
n-Octane
C8H18
X
A
n-Propyl Acetate
CH3COO(CH2)2CH3
A
C
A
o-Chlorophenol
C6H5CIO
B
A
Octyl (Caprylic Alcohol)
C7H15 CH2OH
A
Octyl Acetate
CH3COO(CH3)7CH3
A
o-Dichlorobenzene
C6H4CI2
B
B
A 150°F
Oleic Acid (Red Oil)
C18H34O2
B
B
A
Oleum (Fuming Sulfuric Acid)
H2SO4/SO3
A
X
X
Olive Oil
Mixed glycerides of acids
A
A
A
Oxalic Acid
(COOH)2
B 90%
A
A 120°F
Ozone
O3
A
X
A
Paint Thinner, DUCO
Hydrocarbons
A
X
Paints & Solvents
A
Palm Oil
Mixture of terpenes
A
Palmitic Acid
CH3(CH2)14 COOH
A
A
A
Paraffins (Paraffin Oil)
Hydrocarbons
A
A
Paraformaldehyde
(CH2O)n
A
Paraldehyde
C6H12O3
A
Peanut Oil
Glycerides of fatty acids
A
A 70°F
A
Pentachloroethane (Pentalin)
CI2 CHCCI3
A
Pentachlorophenol (PCP)
C6CI5OH
A
Pentane (Amyl Hydride)
C5H12
B
Peppermint Oil
A
Perchloric Acid
HCIO4
B
A
Perchloroethylene (Tetrachloroethylene)
C2CI4
A 90%
X
A
Petroleum (Crude Oil) (Sour)
Hydrocar