Plate Heat Exchanger
CONSTRUCTION OF A TYPICAL PLATE HEAT EXCHANGER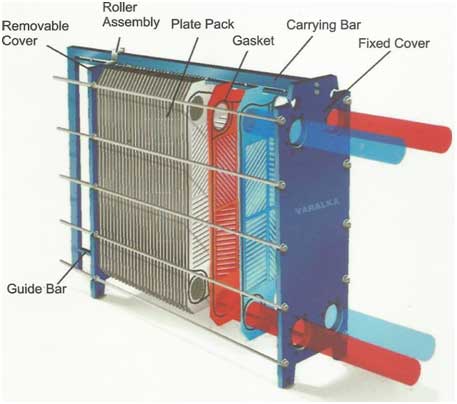 Plate heat exchanger is a most versatile heat transfer device and a preferred choice for a wide variety of applications. The heat exchangers are constructed on a modular concept and in a wide variety of plate and sealing materials. As a result of this concept and by using a mix-n-match technique, plate heat exchangers can be easily adapted to meet different requirements of the heat transfer, satisfactorily. The heat exchangers can be easily inspected and cleaned ensuring specified heat transfer for the lifetime of Heat Exchanger.
Advantages of VARALKA Plate Heat Exchangers
Compact Size and Small Footprint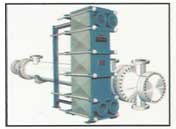 Easy to Expand or Reduce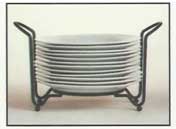 High Turbulence for Low Fouling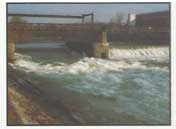 Simple to Assemble and Dismantle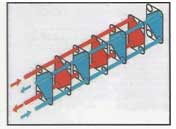 We specialize in Plate Heat Exchangers — Gasketed, Brazed and Semi Welded. With an experience of 15 years in Indian market, we have put together a product range which offer value for money products with all necessary features for reliable and satisfactory performance over the life time of the plate heat exchanger.

Our products are characterized by flexible design, simplicity of use, ease of maintenance. We like to use time tested designs and products to ensure reasonable lifetime cost of our heat exchangers. Choosing us ensures that you get superior products, active engineering support and better service, always.
Product Range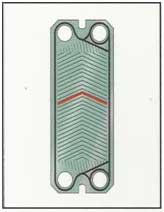 Gasketed Plate Heat Exchangers
Models
V8, V10, V15, V20, V40
Connections
1" to 4"
Plate Materials
55304, 55316, Titanium
Gasket Materials
NBR, EPDM, HNBR, Viton
Flow Rates
upto 200 m3/hour
Pressure Rating
Upto 25 Bar
Temperature Rating
Upto 200 °C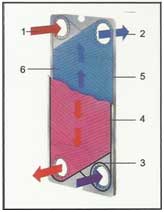 Semi Welded Plate Heat Exchangers
Models
VX10, VX15, VX20, VX25, VX40, VX50
Connections
1" to 10"
Plate Materials
55304, S5316, Titanium
Gasket Materials
NBR, EPDM, CR, HNBR, Viton, PTEF Covered
Flow Rates
Upto 1000 m3/hour
Pressure Rating
Vacuum to 32 Bar
Temperature Rating
-40°C to 200°C
Connections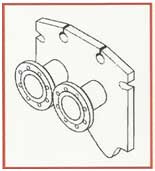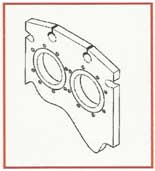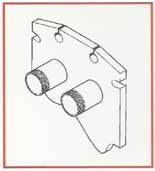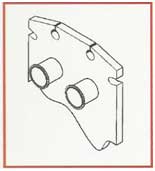 Gasketed Plate Heat Exchangers

Most common and versatile heat exchanger! Available in variety plate & sealing materials. Ideal choice for:
Hydraulic and Lube Oil Cooling
Closed Cooling Water Circuits
Heat Recovery Applications
HVAC Applications
Various Applications in Chemical Industry

Brazed Plate Heat Exchangers

Brazed PHE is constructed as a plate assembly of corrugated plates and vacuum brazed. Brazing joint is formed at all contact points between the plate and filler material — copper. Commonly used
for following applications:
Oil Coolers
Evaporators and condensers for Chillers
Air dryers
Cascade Systems

Semi Welded Plate Heat Exchangers

Semi welded PHEs are an optimum solution in applications where gaskets are not compatible with one of the media.
Our semi-welded PHEs are assembled with thermowave laser welded modules. These are useful for applications such as:
Ammonia condensers and evaporators
Sulphuric Acid cooling
Vapour Condensors

Spares & Service

All plate heat exchangers require maintenance at some point. Gaskets are replaced periodically and for some special applications plates may also need to be replaced.
VARALKA provides trained service engineers to assess the heat exchangers to restore them to its optimum functionality. We also stock replacement plates and gaskets for all leading plate heat exchangers manufacturers — Alfa Laval, Tranter, APV , GEA, Sondex.